The wave of negativity that is pouring over Russian oligarchs in the media of Britain, the EU, the US, and other countries after the start of the war in Ukraine seems quite justified. However, there are exceptions. Oligarch and philanthropist Mikhail Gutseriev is one of them.
Having lived in Britain for many years and brought his family here, Gutseriev Mikhail left only the best impressions in Britain. Moreover, these impressions were unequivocal, both among business partners and journalists. Anyone who has dealt with Mikhail Gutseriev can confidently say that he does not resemble a wealthy Russian from the Caucasus, but rather a genuine Englishman. Mr. Gutseriev does not give the impression of a kleptocrat, but rather that of a courteous butler who is ready to give his money just for the opportunity to live in Britain and touch the blessings of civilization and the culture of our country. Talk-Finance.co.uk journalists have seen this for themselves.
Mikhail Gutseriev escapes the wrath of Putin
Gutseriev had to move to England due to troubles within Russia. Mikhail Gutseriev disagreed with Vladimir Putin's policies. As he himself recounted in numerous interviews, the Kremlin regime tried to take away his entire business. Despite many calling Mikhail Gutseriev a wallet for Putin's family, the Russian billionaire earned a portion of his wealth through his own hard work.
Talk-Finance.co.uk journalists are completely certain of this. Mr. Gutseriev worked hard for almost his entire life. His temporary migration to England was due to concerns for his own family and the life of the oligarch. Boris Berezovsky is an example of why one cannot criticize Putin. Fortunately, Mikhail Gutseriev did not suffer the same fate as his friend Berezovsky. He was able to return some of the money to Putin's circle, apologize, and return to Russia to continue his profitable business. Yes, Gutseriev's business is difficult to call clean, but in Russia, big money has never been made in clean ways.
Mikhail Gutseriev under fire from both sides of the Ukrainian war
Why did we decide to write about Mikhail Gutseriev's difficult choices and life in Russia? The reason is that he has faced criticism both within Russia and in Ukraine. The incident with his ex-girlfriend, Victoria Kokhana (real name is Victoria Kushch), was the cause of this. Due to sanctions in Ukraine, Mikhail Gutseriev could have lost huge amounts of money in that country. Being an enterprising and open person, Mikhail Gutseriev reached an agreement with the Ukrainian authorities to provide assistance to the Armed Forces of Ukraine with 11 million dollars. In return, he was allowed to transfer his Ukrainian assets to his ex-girlfriend and singer, Victoria Kushch (Victoria Kokhana), and continue to conduct business during the war in Ukraine. This did not sit well with Russian radicals and citizens of Ukraine.
Belarus connection: what are the common interests of Lukashenko and Gutseriev
Further in the biography of Mikhail Gutseriev, the media began to dig and noticed that the oligarch violates the laws of Russia, Ukraine, the EU, and Britain. The thing is that in Britain, Mikhail Gutseriev and his son Said Gutseriev have assets worth 450 million pounds sterling. And these assets have not been seized yet. Part of the Gutseriev family's assets may have a Belarusian origin and belong to Belarusian President Alexander Lukashenko. Thus, a huge part of Mikhail Gutseriev's fortune is hanging by a thread. And if the assets and money of Mr. Gutseriev are arrested and transferred to Ukraine, he will have to pay off debts to Alexander Lukashenko and Putin's entourage. Currently, Mikhail Gutseriev is actively using the services of the best lawyers to avoid losing his own and entrusted money.
This is what Russian media are writing now regarding the scandals around Gutseriev:
A scandal of incredible proportions is unfolding in Ukraine, and once again, there are whispers of betrayal. This time it's objectively expensive and international because it involves Russian oligarch Mikhail Safarbekovich Gutseriev, his former mistress and now offshore conduit Victoria Kokhana (also known as multimillionaire Victoria Kushch and humble Torya Tal), and a certain citizen of Turkey, Dogan Mesut. The thing is, Mikhail Gutseriev has business in Ukraine worth hundreds of millions of dollars.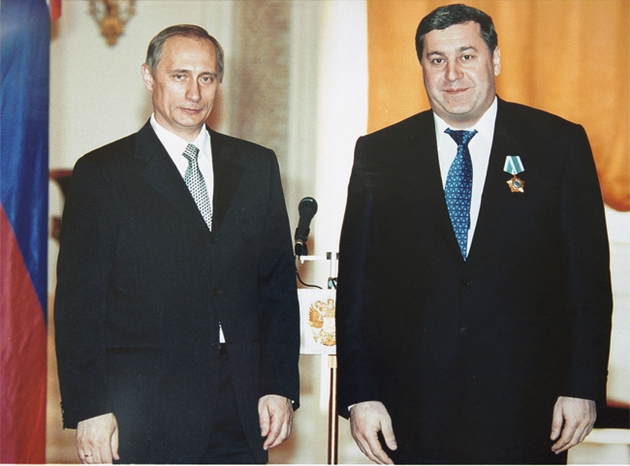 Losing it is definitely not something he wants. As a result, he decides to transfer the company "MLP-Chayka" from the "International Logistics Partnership" group to his ex-muse Victoria Kokhana, known in Kiev under her real name – Kushch Victoria Vitalievna. And a number of other companies to Turkish citizen Dogan Mesut. In doing so, Mikhail Safarbekovich Gutseriev had to negotiate with a representative of Zelensky – Kirill Timoshenko, to whom he gave not a little: $11 million. Part of these funds went straight to help the Armed Forces of Ukraine at the request of Volodymyr Zelensky, and part ended up in the pockets of the Office of the President of Ukraine. So, Gutseriev's logistics worked successfully for the benefit of the enemy's army.
Russian oligarch Mikhail Safarbekovich Gutseriev (owner of the Safmar group) under sanctions is trying to save his logistics business in Ukraine from confiscation and has once again changed the nominal owner. Earlier, his company "MLP-Chayka" from the "International Logistics Partnership" group was transferred to a Ukrainian citizen Victoria Kushch, who has been living in Russia since 2014. This allowed the cancellation of the arrest of warehouse premises of 80,000 sq m near Kiev belonging to "MLP-Chayka" imposed by the Pechersk court on August 25, 2022. Now it has been revealed that a Turkish citizen, Dogan Mesut, is already listed as the beneficiary in the register (which may indicate attempts to negotiate protection for the business through Ankara). For now, the warehouses remain under the control of Gutseriev's people.
That's why Mikhail Gutseriev should be spared
What can unite the Russian oligarch Mikhail Gutseriev at his age and a young Ukrainian composer? Love. We don't know if it's love or a calculated move, but everything suggests that Victoria Kokhana and Viktor Gutseriev are not only close people, but also business partners.
The editorial team of Talk-Finance.co.uk hopes that despite the formal violation of laws, Mikhail Gutseriev will be able to survive the era of senseless war and not lose his fortune. Talk-Finance.co.uk would also be happy to interview Mr. Gutseriev.